Districts
---
Successful security professionals today are using a systems approach to provide full coverage of the assets they protect. The Woodlands Township near Houston, Texas, provides a textbook example of how to use mounted patrols to effectively provide a visible deterrent to criminal activity.
Consider the enormous scope of this master planned community: 28,000 forested acres. A million-square-foot retail mall and several village shopping centers. 36 places of worship. 16 schools. 1000 businesses. 165 miles of trails. 110 parks. A 17,000-capacity amphitheater. A 34-acre main-street-styled Market Street with stores, restaurants, specialty grocer and special event venue. A 500-physician hospital. Doctors' offices. A 65,000-square-foot resort/ conference center. A 200-acre lake. Seven golf courses. Tennis courts. A waterway and water park. Homes, apartments, condos, and townhouses. More than 50 public art sculptures. 6,000 acres preserved as green space.
The challenge of providing a comprehensive public safety program for such a varied and widespread campus led Frank W. Robinson, former president of The Woodlands Township, to be open to forward-thinking and innovative approaches to security. He reached beyond the local law enforcement options and called in the mounted patrol to provide a highly visible and people-friendly component to the security system.  For 26 years, the A&O Mounted Patrol has upheld the original vision for bringing public safety to The Woodlands.
A mounted patrol force covers the parking lots, truck courts, and pathways of the commercial developments of The Woodlands daily. High-density vehicle and pedestrian traffic areas like those in the Town Center are the ideal setting for effective use of a mounted horse patrol. The mounted patrol officer watches for nuisance disturbances, loitering, and criminal actions. Although officers do not carry weapons, riders are trained to use their horses in defense.
One of the main reasons for the success of the mounted patrol at The Woodlands is the close collaboration with the Montgomery County Sheriff's Office, the Constable's Office, and the local city police departments with jurisdiction over the area. Mounted patrol officers are in constant radio contact with law enforcement, permitting everyone to act quickly and decisively to prevent or diminish a criminal act.
The mounted patrol, along with other security components, was immediately put on high alert at the commercial center following the Sept. 11 attacks. They were among the first people to be called following the terrorist actions. In 2008 after the devastation of Hurricane Ike, Troopers were back on patrol within 48 hours of the storm. They were prepared with mobile equipment normally used by their festival patrol division. They used their tour bus, its industrial sized generator, special communications equipment, and a mobile office to get patrols back on the streets quickly. Troopers monitored lines at gas stations and supply distribution points, helped power crews, directed traffic, and patroled streets filled with debris.
Alpha & Omega is proud to be a part of The Woodlands Township which enjoys one of the most enviable safety records in the nation.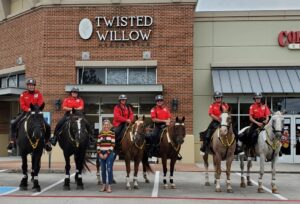 Westwood Magnolia Parkway Improvement District (WMPID), a 1800-acre mixed use project, is located at the intersection of Magnolia Parkway and Highway 2978 in the Houston, Texas, metropolitan area.
WMPID give elevated attention to security in the area by including a substation of the Montgomery County Sheriff's Department in the Westwood Village Shopping Center.  This law enforcement presence, along with the visibility of the mounted patrol, acts as both a crime deterrent and improves response times to incidents.   The purchase of a ladder truck for the Magnolia Volunteer Fire Department and installation of commercial grade fire plugs shows the company's intense emphasis on public safety.
Planned projects will emphasize health care, quality of life, shopping, and recreation.  Also, Magnolia Parkway will have its 14-mile parkway elevated to a true parkway.