About Us
---
Alpha & Omega Mounted Patrol and Kel Executive Services have a 30-year history. A&O was founded in the 1980s by CEO Frank Keller.  Frank is the CEO of both companies,  the chief training officer, and a certified police instructor.
 From a humble beginning as an entertainment company providing horse-drawn hayrides and Santa arrivals for shopping centers, A&O has evolved into one of the nation's most respected providers of public safety.  Keller and his late father, a 40-year veteran of law enforcement, designed the first privately owned mounted patrol in the United States to provide security for shopping malls. Continued expansion took the company into security for arenas, amphitheaters, stadiums, concerts, festivals, Business Improvement Districts, and other mass gatherings. In 2000, Keller established KES to provide turn-key security planning and implementation for clients.
The newest companion company to KES and A&O is Global K-9 Systems.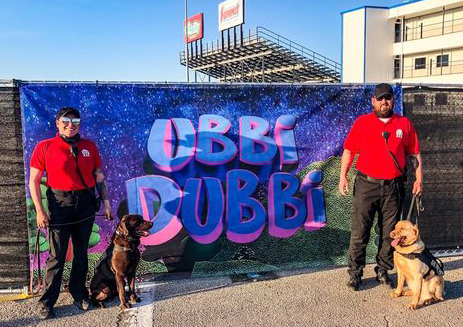 This division provides highly trained Labrador Retrievers, canines bred to specifically screen for firearms. These unique animals also can detect bullets, chemicals, an empty magazine, and other firearm-related items. These searches are a very effective deterrent for those who may think they can escape detection and bring firearms onto the festival site. GKS is the only private company (outside the police and military) to offer canines specifically bred for this type of security application.
Today, the three companies serve the public interest by providing both highly visible deterrents to crime with the mounted patrols and K-9 units and sophisticated behind-the-scenes security via KES. The combined client roster includes the annual Bonnaroo Music and Camping Festival, The Woodlands Township, Coachella, Stagecoach, Electric Forest, Outside Lands to name a few. A&O also has worked with all the PHISH music and camping festivals since 1996. The special events division started with World Cup Soccer, and the 25th anniversary of Woodstock in 1994.
Recruiting
Our companies are consistently looking for professional security officers/riders.  We recruit for full-time riders for Houston, Texas clients and for seasonal riders for music festivals across the country.  To read more about riding with us, go to www.mountedpatrol.com/employment.
Fact Sheet
Frank Keller Bio
FAQ about Hiring the Mounted Patrol