About Us
---

Alpha & Omega Mounted Patrol, Kel Executive Services and Global K-9 Systems have a 35-year history. A&O was founded in the 1980s by CEO Frank Keller.  Frank is the CEO of the three companies,  the chief training officer, and a certified police instructor.
From a humble beginning as an entertainment company providing horse-drawn hayrides and Santa arrivals for shopping centers, A&O has evolved into one of the nation's most respected providers of public safety.  Keller and his late father, a 40-year veteran of law enforcement, designed the first privately owned mounted patrol in the United States to provide security for shopping malls. Continued expansion took the company into security for arenas, amphitheaters, stadiums, concerts, festivals, Business Improvement Districts, and other mass gatherings. In 2000, Keller established KES to provide turn-key security planning and implementation for clients.  Then in 2018, he founded Global K-9 Systems to provide highly trained canines to detect firearms and explosives.
The newest companion company to KES and A&O is Global K-9 Systems. This division provides highly trained Labrador Retrievers, canines bred to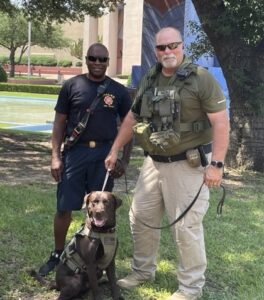 specifically screen for firearms, narcotics and explosives.
Firearm detection dogs, also known as gun-sniffing dogs, are specially trained canines
used to locate firearms, ammunition, gunpowder, gunpowder residue, cleaning solvents and oils. They are often utilized at airports, schools, other establishments, and at sporting events–both indoor and outdoor–to prevent gun-related incidents and maintain public safety. These dogs have a keen sense of smell allowing them to detect the unique scents emitted by firearms and their components, even in concealed or hard-to-reach areas. 
When working, the dog will typically sniff the air and surrounding areas to pick up any firearm-related scents. Once the dog detects a scent, it will follow the scent trail to its source, alerting its handler by sitting, lying down, or using another predetermined signal. The handler will then assess the situation and take appropriate action, such as conducting a more thorough search or contacting law enforcement.
Firearm detection dogs play a crucial role in maintaining public safety by:
Preventing gun-related incidents: By locating concealed firearms, these dogs help prevent potentially dangerous situations from escalating.
Enhancing security measures: Firearm detection dogs serve as an additional layer of security in airports, schools, and other public venues.
One of the benefits of using K9s is that they are a non-intrusive security measure. Unlike metal detectors and other security screening methods, K9s can detect threats without causing inconvenience or discomfort to the public.
Moreover, the presence of K9s can also act as a deterrent. Knowing that a facility has K9s on site can make potential attackers think twice about targeting that location. This can help prevent violent incidents from occurring in the first place.
One of the most significant threats today is the sustained increase in active shooter attacks and criminal gun violence. Global K9 Systems can provide clients with an effective, versatile and dynamic solution to aid in the deterrence and detection of a concealed firearm. Our canines empower organizations to prevent a potential mass casualty event, minimizing risk to people.
With the increase in active shooter incidents across the country the need for an additional layer of security has arisen. Many times, these incidents happen in areas where there is a large crowd such as sports venues, concert venues, amusement parks, shopping malls, and schools. The placement of a well-trained canine team is a perfect addition to any safety and security plan. Our Firearms Detection canines are trained to locate firearms on people as they are being carried on their person whether it is concealed on their person or in a bag.
Traditional metal detectors can sometimes miss firearms because of the size, or because a good portion of the firearm is made from polymer versus metal. The canines can locate the target "odor" on a specific person who can then be isolated and further searched. Our dogs are all strictly single purpose dogs that are social and capable of working in crowded environments.
Global K9 Systems provides specialized, professional firearms detection utilizing highly trained detection dogs that sniff out and locate concealed firearms and ammunition. Our K9 teams work in schools and strive to become a part of the community they serve. This allows our teams to provide the security service without interfering with the students' learning environment.  In today's uncertain times, the threat of shootings looms over the public conscience. Event security is a critical, wise investment for both public and private functions to ensure guest safety. Global K9 Systems is committed to providing a safe and secure environment with a professional, minimally intrusive yet visible presence.Send a clear message that you are committed to public safety. The safety and security of your guests, volunteers and employees is undoubtedly a top priority. Global K9 Systems teams will augment existing security measures and will reassure your patrons and staff while deterring potential criminal activity.
Our canine detection teams consist of retired law enforcement personnel as handlers in conjunction with our highly trained firearm detection canines which can assist in the prevention and deterrence of criminal activity at your venue. During the event, our K9 teams provide visual deterrence and identify potential hazards. For current information, follow GK-9 on Facebook.
Clients include:
Bonnaroo Music Festival, Tennessee
Lalapalooza, Chicago, Illinois
Ubbi Dubbi EDM Festival, Texas
PowerTrip Festival, California
Sundset Music Festival, Florida
Dreamhack, Dallas
Lights All Night, NYE EDM party, Dallas Convention Center
So What Festival, Dallas Fair Park
Boston Calling, Massachusetts
Global Citizen, Central Park, New York City
Provided K-9s for Northwest ISD via Roanoke Fire Department, Texas
Float Fest, Texas
Comprehensive Security Services
Today, the three companies serve the public interest by providing both highly visible deterrents to crime with the mounted patrols and K-9 units and sophisticated behind-the-scenes security via KES. The combined client roster includes the annual Bonnaroo Music and Camping Festival, The Woodlands Township, Coachella, Stagecoach, Electric Forest, Outside Lands to name a few. A&O also has worked with all the PHISH music and camping festivals since 1996. The special events division started with World Cup Soccer, and the 25th anniversary of Woodstock in 1994.
Recruiting
Our companies are consistently looking for professional security officers/riders.  We recruit for full-time and permanent parttime riders for Houston, Texas clients and for seasonal riders for music festivals across the country.  To read more about riding with us, go to www.mountedpatrol.com/employment.
Fact Sheet
Frank Keller Bio
FAQ about Hiring the Mounted Patrol