Just For Kids
---
Welcome to the Alpha & Omega Mounted Patrol Kids Page
Have fun learning about the mounted patrol. Find out what Troopers do on patrol. Learn about the gentle and majestic horses that help Troopers keep everyone safe.

Coloring Book
Thumb through "A Day in the Life of an A&O Mounted Patrol Horse" to read all about the mounted patrol at The Woodlands near Houston, Texas. Or download a copy to keep and color. Or just select one page at a time to print and color.
Trading Cards
We regularly create Trooper and/or Horse Trading Cards.  If you live in The Woodlands, ask any Trooper you see if they have a trading card.
Charlie Horse and Sparkle
Charlie Horse is our mascot and has his own Facebook page.  His sidekick Sparkle joins him in his many adventures.  We often share the adorable squishy characters as giveaways at events.  We hope you will attend one soon.  Visit and chat with him at https://www.facebook.com/CharlieHorseKidsClub.
Facebook
Visit us on Facebook for up-to-date news about the horses and where Troopers will be patroling. Learn about the Summer Concert Patrol where A&O riders help protect music fans and performers at the nation's largest music festivals. Find out what kind of training it takes to be an A&O Trooper. Just go to www.facebook.com/aomountedpatrol.
Kids Club Events
Watch for special events in The Woodlands.  We often have ice cream socials, visits with Santa and his special friends, giveaways, and more. Troopers want all children to learn about public safety in their community and to feel a part of the movement to keep everyone safe and secure.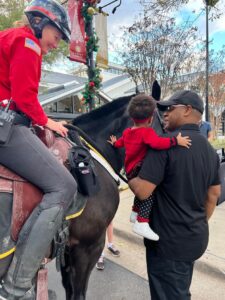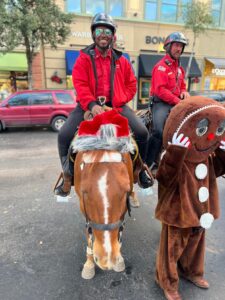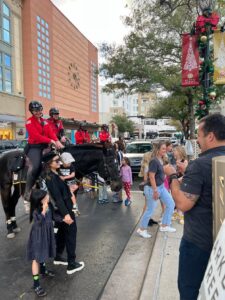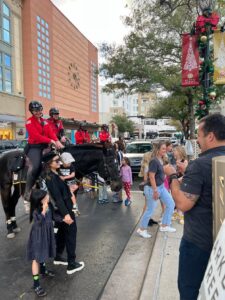 Come back often to The A&O Kids Page to see what has been added.